What People Say About Us
On this page you will find a selection of testimonials from our visitors who have stayed with us from all around the world as well as reviews from the many participants on our courses.  We would always welcome, and very much appreciate, you leaving or emailing a testimonial if you have been happy with your stay or with the course that you attended.
We have had an amazing time staying here.  There isn't anything you haven't thought of and its such a beautiful place.  Such a fantastic area with so much history.  A perfect way to celebrate my birthday.   You are amazing hosts and go above and beyond.  Nothing is too much trouble.  We will definitively return!

Thank you for such a fun time! I never knew that making chocolate could be so rewarding. Great tutor...

It was our first time in this area and the info provided by Sherry has been invaluable.  We loved the welcome hamper...We found the Hayloft a peaceful haven away from our hectic 'real life' and we enjoyed the homely touches...

What a perfect place to spend Valentine's weekend!  Romance, peace, quiet & pampering in abundance!  'Amazing' doesn't even cut it for this place...Evenings spent by the log fire, getting cosy in the cubby hole with the lights dimmed...letting the world drift away, soaking in that tub by candlelight; I defy anyone to come here for the weekend and not feel utterly at peace!  Every little details has been thought about and it's the little touches that make this place feel really luxurious!

This was the perfect place for a bit of peace & quiet!  ... you have my dream bathroom!...

A full, fun, educational and tasty day today - great fun learning all the recipes, and seeing (tasting!) the results.  Laughed lots and ended up with tonnes of baked goods...yum!!. I'm sure I'll be back again.

We've had such a wonderful relaxing week, as usual everything we could possibly have wanted has been provided & it really does feel like a home away from home!  Thank you for your hospitality, we can't wait to come back!

Thanks ever so much for a lovely stay in  your beautiful Hayloft...

We loved the Bothy and all the delicious treats that were left by Sherry.  Really good to see natural products being used throughout and showcasing local products.

An unexpected find and what an absolute pleasure to stay here!  Sherry has thought of everything from welcome hampers, to soaps to detailed information about places to visit!

Feeling truly inspired following my beginner's bread courses and excited about making my own creations at home.

If all self-catering holidays were like this, we'd never do anything else!  The luxury and thoughtfulness helped us make the most of a short break.  We've also converted to the delights of Lincolnshire

Lincolnshire is lovely - good food, friendly people and big skies.

Loved it here!  I think this may be our favourite part of the UK - seems to offer everything!  And the Hayloft is wonderful - also seems to offer everything! Thanks, Sherry, for making this a wonderful ending to our trip - I don't think anyone can "top" your hospitality. This visit to Lincolnshire has truly been an unexpected joy.

Had an amazing day!  The finished products looked and tasted amazing.  Hospitality was brilliant.  Fantastic lunch.  Thank you!

This is the most wonderful place we have ever stayed in.  You have gone to so much effort to make the Hayloft a warm cosy retreat.  Everything has been through of....  Like straight out of a magazine...

This was our first time in Lincolnshire and we were left wondering why we've never been before.  We loved the wide open spaces and empty roads! ...

...The Hayloft is luxurious and yet eco-friendly...We just love coming here year after year...

Our third time in the Bothy; a wonderful few days of autumn sunshine.  Walks on the Fens, the Wolds and along the beach.

We have made the Hayloft our annual treat to escape and chill.  This is our 4th visit now and each time we love it more...

Eco and Friendly. "This self-catering converted stable takes its eco-credentials seriously, but there's no skimping on comfort... Sherry is evidently proud of her achievements on the sustainability front – she has a gold award from the Green Tourism Business Scheme. Solar panels and a wood pellet boiler provide hot water and heating, insulating materials include cotton and hemp, something called Pavatex made from sawmill by-products, and a floor-screeding concoction involving limecrete and recycled glass. Paints and woodstains are from a German company which uses citrus essential oils as solvent – so Sherry did the decorating in an orange-scented haze. Ensconced, it's as though we have arrived at a friend's weekend mountain cabin in upstate New York. Our "loft" has sloping ceilings, solid pine floor (sustainable source, natch), and is open plan from the hallway into a kitchen-dining room and sitting area, which also has the unusual addition of a box bed (like the traditional Welsh kind) built in at the far end, behind the sofa... The fridge is hidden in a freestanding cherrywood cabinet, an admirable piece of furniture even without the contents (Lincolnshire chipolatas, juice, cider, eggs, cheese). Sherry has left us veg from the garden, and sumptuous edibles in a wooden trug beside a jug of sunflowers on the table – her own-label apple wine, jams and chutney, homemade bread and eggs – and vegan champagne truffles ..." Sally Shalam, the Guardian

3rd October 2009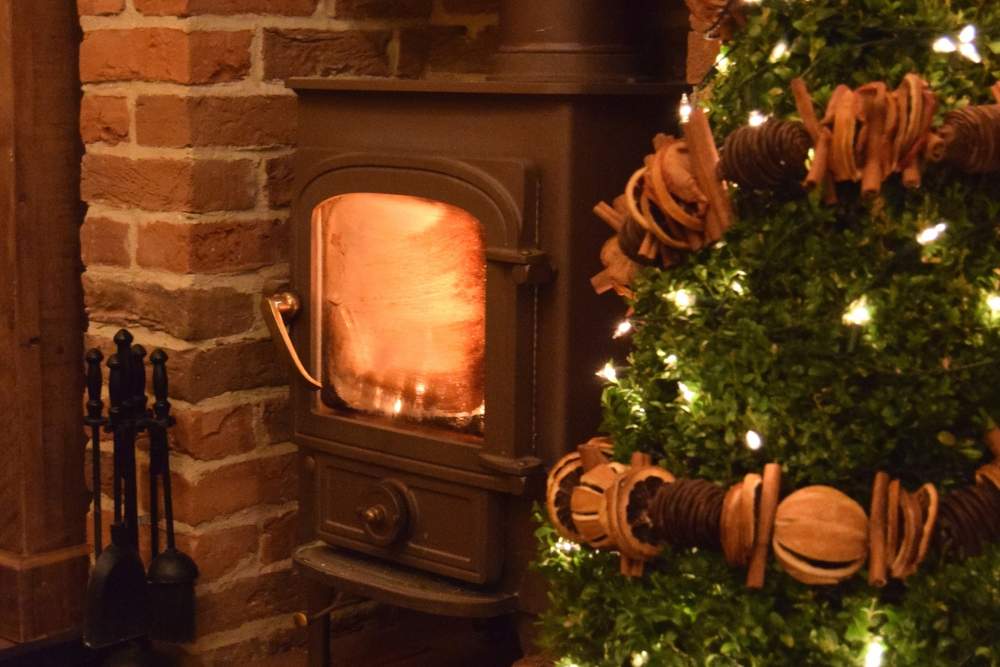 The Bothy (2+1)
Warm and romantic with a luxury hamper and other lovely touches. A wood-burning stove, wooden soaking tub and welcome hamper make the Bothy a special place for that perfect break away.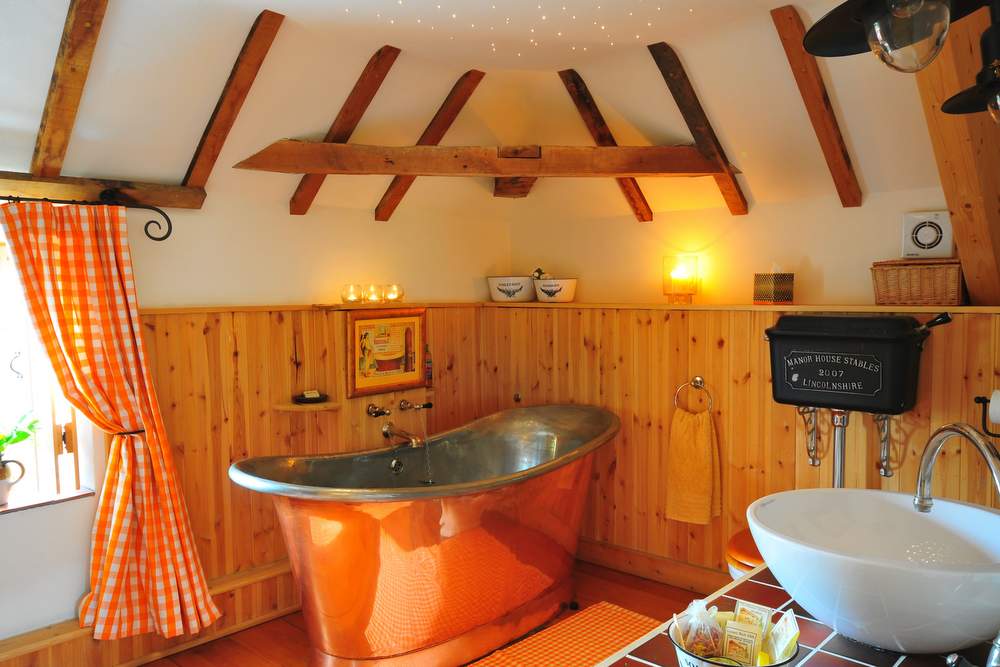 The Hayloft (2+2)
A lovely retreat with a wood-burning stove and lots of extras. The peaceful bedroom, box bed and deep copper spa bath are special places for relaxation – all perfect ingredients for a break away.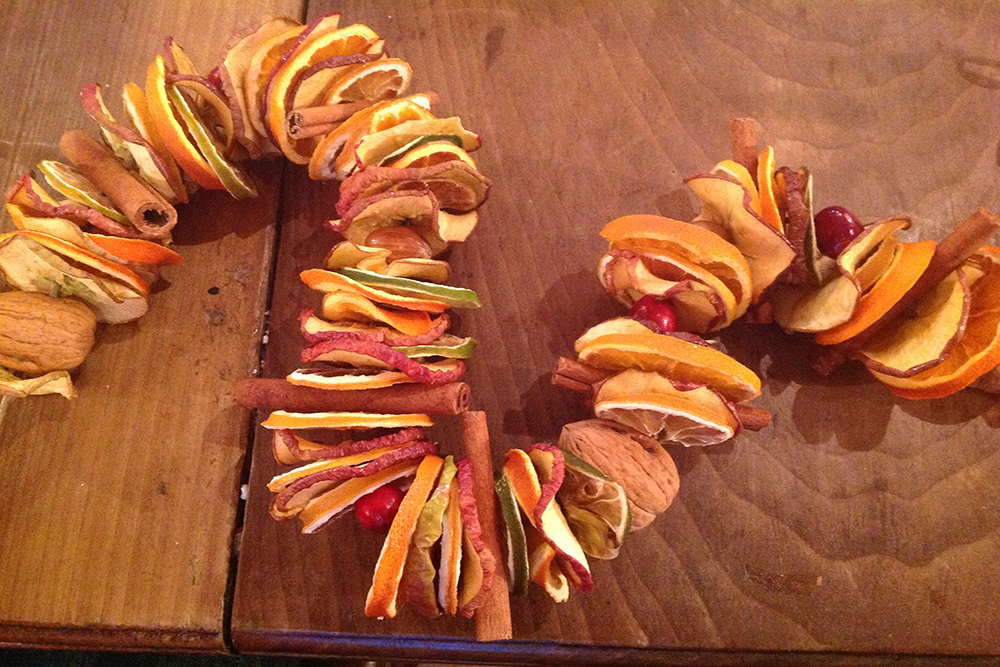 Courses
Cottage craft and cookery courses. Learn skills, be inspired and meet new people. Courses range from bread making to beekeeping, cheese to chocolate making and crocheting to clay creations… and more!