Quality Self-catering Accommodation in Lincolnshire
Eco-friendly, historic, cosy, warm, safe – perfect for a break all year round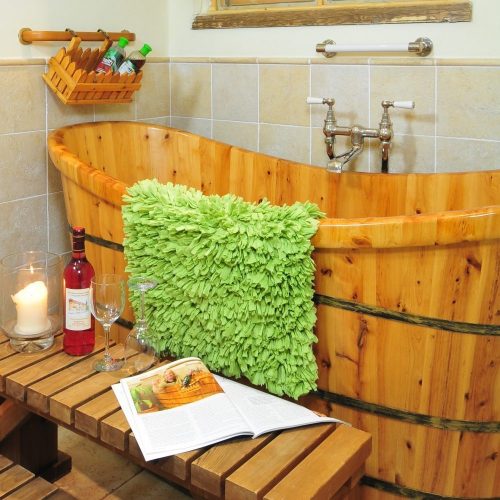 The Bothy (2+1)
A peaceful place, perfect for couples. Your welcome hamper includes plum bread, jam, chocolates, a bottle of wine and other goodies. The king size bed sleeps 2 and a cosy box bed in the living area provides a sleeping space for a child. The hand-crafted kitchen has everything you need and the cosy living area features a wood-burning stove. Thick fluffy towels and bathrobes, luxury toiletries, an unusual wooden bath tub and wet room shower are all part of your bathing experience. The step-free Bothy is all at ground-floor level and has a little enclosed garden just outside the back door with wooden table & chairs, loungers and small BBQ. A maximum of 2 well-behaved dogs are welcome in the Bothy but no disruptive, barking dogs please as guests are here to relax! For Electric Car owners there is a charging point available for your use.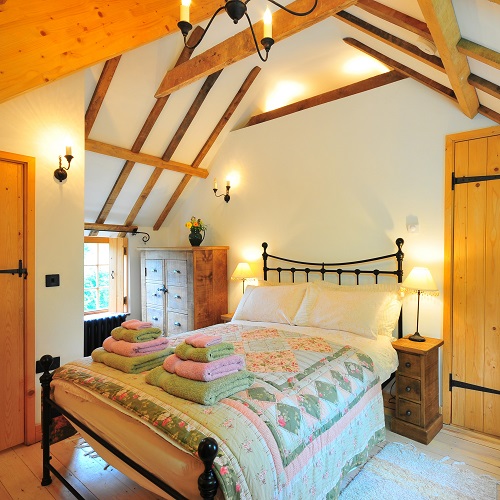 The Hayloft (2+2)
A romantic retreat and a perfect place for two. Your welcome hamper includes plum bread, jam, chocolates and a bottle of wine plus other local treats. You'll enjoy the peaceful bedroom and the cosy box bed in the living area – perfect as a daytime snug for yourselves or as an extra sleeping space for 2 children. For complete relaxation spend time in the deep copper spa bath and wrap up in thick fluffy towels and bathrobes. A large shower for two, luxury toiletries and twinkly lights in the ceiling are special extras. A wood-burning stove keeps you warm and cosy and your little kitchen has everything you'll need to cook up a tasty meal. You also have a private little garden with a small BBQ, loungers and wooden table & chairs. For Electric Car owners – car charging point available at the property. This is a dog-free accommodation.
Our Temporary Flexible Cancellation Policy
We understand that you might have worries about booking your stay just now as the Covid-19 uncertainties continue. As a business we have been through many uncertainties ourselves since March 2020 so we know what it feels like. Our policy during this time has been, and continues to be this: If we have any further lockdowns, whether nationally or locally, which restrict travel within the UK, we will either issue you with a 'credit voucher' which you can use for up to one year, or we will fully refund the amount that you have paid, within 2 weeks of the lockdown announcements.
We have also achieved the 'We're Good to Go' mark and have developed new safe working practices based on Government advice, such as increased cleaning, disinfecting all touch points and 'self-check-ins', although we are also happy to meet guests outside.
What people say about us
...right from the first email we received a warm welcome. We've had a fabulous week exploring the area but equally enjoyed our time at "home" too! The Bothy has everything you need and more for a safe and comfortable stay.

Our 4th visit to the wonderful Hayloft - after a crazy 2020 this getaway was like an oasis - much needed by all! The Christmas tree looked beautiful & the hamper, so full of delicious Christmas goodies, was amazing as always. I really think you would struggle to find a nicer place to stay! Counting down the days until our next stay!

As soon as we heard lockdown was lifting, we booked straightaway! We needed rest , relaxation and to get away from it all. The Bothy fulfilled all our expectations. As our 4th visit, we knew what to expect, and we were not disappointed - a little slice of perfection! The cosiness, the décor, the quaintness - our perfect bolthole. We'll be back.

Dear Sherry and Irven, thank you so much for providing this wonderful cosy little place. It was so relaxing and rejuvenating. You were both very welcoming hosts...

Thank you so much for a lovely retreat for our long weekend break. We can't get over how cosy, cute and welcoming the Hayloft is and we'll definitely be coming back for a second visit!

Thank you sooo much for creating such a perfect place for a calm, relaxing getaway - we love the Bothy! Your attention to detail & all the ways you have thought about how people want to use a space are just spot on. We are inspired by the sustainability of it all too & have taken some tips.  Only our 1st stay, but I m sure we will be back. Have had fun exploring the area & the locals were very friendly, but we didn't want to go out much as this place is soooo cosy & has everything we needed.

A beautiful setting to begin our marriage, perfectly romantic! We will remember our stay for the rest of our lives. The Hayloft really is a wonderful little plce with ll the right touches to create a warm and welcoming abode.

Our 2nd visit here has been every bit as relaxing and enjoyable as last time. Thank you for the lovely hamper of goodies...We will be back for more visits as it is such a great place for a break!

We have absolutely loved our stay in this special, tranquil place. It has been just what we needed. We have loved the farmhouse feel and all the extra touches. We all loved the bath!

What an amazing time we have had. So special and memorable in so many ways. We leave full of gratitude and new memories and new bits of history learnt. Thank you for your kindness and the time you gave us. And for the love and hard work you have put into the restoration of the Manor house and Stables. The energy and love shines through we have appreciated every bit of it.

Thank you so much for a wonderful stay at the Hayloft. The pictures online looked good, but the reality exceeds all expectations. It was the perfect retreat during these strange times. We loved your style and your environmental values. You have provided everything we could possibly have needed and we loved all teh special touches.  We didn't want to leave and will definitely be back!

After such a strange few months we wanted somewhere to switch off from the world for a few days.  There was only one choice for us!  Thank  you for creating a space we were absolutely confidant in feeling 'safe' in.  Days of 'bathing', 'wining' and 'dining'.  Total Relaxation!  Thank you.

Very relaxing - lovely cosy bedroom, comfortable mattress, quiet, totally dark - all ingredients for a good night's sleep.  The Hayloft has everything you need and more - the lovely extra touches make you feel welcome and valued. Lots to do in Lincolnshire and the weather was great... Thank you for making our time here special.

Thank you so much for the perfect place to stay. Even our dog Molly has been so calm, enjoyed the location and remained chilled.  The Bothy has ticked every box for a home from home, your choice of accessories has been wonderful, would recommend anyone to stay, we'll be back soon.

Not even a pandemic could keep us away!  Beautiful & peaceful as ever. Toasty fire and the most comfortable bed in England. Thank you for having us back & keeping us safe. We will return.

We thoroughly enjoyed our short stay in this beautifully restored and luxurious accommodation. Thank you, we appreciated all the effort and attention. So delighted to have discovered such a wonderful getaway place. Thank you!

We loved every minute of our stay at the Hayloft. The children enjoyed the spa bath and the box bed - as it is so unique and special. WE loved the generous food hamper and kept discovering exciting details everywhere. Thank you for putting so much effort into making your guests comfortable - and being very helpful and available.

Probably the best equipped holiday rental we've stayed in. Thoroughly enjoyed our stay in rural Lincolnshire. We enjoyed cycling, getting to both Boston and Heckington...A fantastic place to unwind in these strange covid times.

What an amazing place to stay. My wife and I were nervous as this was our first covid trip away but the measures in place have really set our minds at rest. The Bothy itself is perfect, it didn't matter if it rained or shined. We really looked forward to coming back to relax and sit in front of the fire!

Our third visit to Manor House Stables and still as lovely as ever...it's so nice to return with our daughter who absolutely loved the box bed!

This is our 10th visit so it's pretty obvious that we always enjoy our short stays in this part of Lincolnshire...Sherry & Irven are very welcoming and we recommend a visit which will not disappoint.
A little bit about us…
Our 18th century stable block was lovingly restored using natural materials to create two places to stay, a room for small courses and a little local history museum