In the Press
On this page you will find a selection of excerpts from press articles that have been published in national magazines, about the Manor House Stables and what we have to offer.
Top 3 Ways to Explore Lincolnshire's Great Outdoors. "...Around half way along the trail, in the village of Martin, Manor House Stables is the perfect place for a little luxury at the end of your walk. The18th Century restored stable block contains two self catering properties. Beautifully appointed, the accommodation is warm and romantic with wood burning stoves, spa baths and a luxury hamper of local produce to refuel you after your long day."  A Luxury Travel Blog, September 2015

September 2016

Top 10 Hotels in the Autumn in the UK.  "An often overlooked county, Lincolnshire has a wild coastline, Georgian market towns and significant wartime airfields (the Battle of Britain Memorial Flight Visitor Centre is at RAF Coningsby) that offer much to the off-season tourist. Manor House Stables is made up of two self-catering apartments, the Hayloft (which sleeps up to four) and the Bothy (for two)....Owner Sherry Forbes has thought of everything - from eco-friendly paints and organic wool mattresses to a welcome hamper that includes garden vegetables. You'll wonder why you've never heard of this place before.."  Sally Shalam, Conde Naste Traveller Magazine

October 2011

"The Manor House Stables outside the village of Martin in Lincolnshire is an eco-friendly, self-catering retreat where you can simply relax or learn a new skill..."

February 2012

Spotlight on: Manor House Stables.  "As we pulled up to the picture postcard sight of the Manor House Stables the first sign of sound eco credentials was evident by the layer of snow settled firmly on the roof, a sure sign of good insulation. Any fears that this was down to inadequate heating for the freezing temperatures were quickly abated as we were greeted by the cosy warmth of the Hayloft, warmth rivalled only by our hostess, Sherry's, welcome. First impressions were of a beautifully decorated, luxurious and immaculate interior. It quickly became clear that this was a result of Sherry's passion for using good quality in everything with a view to longevity and minimum waste. Closer inspection revealed that there is barely a shred of plastic to be found. This is a material far out of favour with Sherry and Irven, both trained biologists who know only too well the environmental damage plastic waste can do. We were delighted to have the opportunity to read about how the renovation was achieved using eco and traditional materials in the glossy book provided, details of this amazing project can also be found on their website. The heart of the home, and we did feel right at home, is without doubt the lovely wood burning stove which we found complete with expertly made fire ready to light and a plentiful supply of logs (sustainably sourced of course!). The ideal welcome for weary travellers on a cold night was the lovely hamper of local produce and goodies, some as local as the splendid garden just outside! This continued to fresh bread and a fridge stocked with free range eggs, local sausages and organic milk. And what a fridge, had Sherry not pointed it out we might have gone on thinking it was just a beautiful antique cabinet. Luxury abounded but cleverly intertwined were eco measures at every turn, recycling, composting, energy saving light bulbs, insulation to rival any modern building that kept it too warm to light the wood burner for a full 10 hours from turning off the heating despite the sub zero temperatures outside. Having lit the stove we were then able to use the oven above to cook perfect pizzas in record time after which we snuggled up in the charming nook in the living room which doubles as an additional sleeping area for larger groups or families". Hello Ecoliving, January 2011

January 2011

Lavender..."For Martin woman Sherry Forbes, her new business venture would prove a stark contrast from her previous life as a marine biologist. It was also one that has seen the enthusiastic woman transform a dilapidated farmhouse and barn into a stunning country home and adjacent stable block in which Sherry is hosting courses and workshops to revive forgotten country crafts... 'The subjects are varied, but there's a distinct commonality.' says Sherry. 'All of the courses at Manor House Stables involve making things, and employing simple domestic skills that we've forgotten about...But what's important for the time being is that participants feel enabled and have a go at creating some products for themselves. It's very rewarding...' Those who wish to stay in the beautiful accommodation are treated to fresh local Lincolnshire produce, a welcome trug of jams, cheeses and chutneys, and apple wine, as well as exceptional, unique accommodation. Below the hayloft, meanwhile, the craft rooms and a small kitchen area allow visitors to take part in around 15 different courses each year, all based around forgotten country skills. All of the courses and workshops reflect a commitment to using natural materials and ingredients, combined with traditional skills and crafts." Lincolnshire Pride, 2015

'Loved up in Lincolnshire'.  "Romance with a touch of luxury, that's what you get at the Manor House Stables on the edge of the Lincolnshire Wolds, just 20 minutes' drive from historic Lincoln.  This award-winning 18th century stables conversion offers the Hayloft and the Bothy, cosy​ self-catering retreats with log burner, under-floor heating, exposed beams and stunning bathtubs.  Couples can also book personalised country craft or cookery courses such as baking bread or making jam, and owner Sherry Forbes provides all guests with an indulgent hamper of local produce."

February 2016

10 top UK green breaks. A twin renovation of former farm stables, the Bothy and Hayloft at Manor House Farm in the village of Martin offers guests a comfortable, rural hideaway. The self-catering apartments have retained their original features such as exposed beams and stalls. A local building firm used environmentally-friendly materials such as natural paints and varnishes, lime plaster and hemp insulation. The authentic touches are enhanced by wood-burning stoves and intriguing bath tubs - one made from wood, the other from copper. The Guardian, July 2008

July 2008

Cool Holiday cottages in Lincolnshire.  "Within easy day-tripping distance of Lincoln and its cathedral, this cottage forms part of a sensitively converted 18th-century stable block, with a limecrete and recycled glass floor, wood pellet boiler and underfloor heating …It's great for couples, with a large bedroom, wood-burning stove and deep copper bath. And though it really sleeps two, if you fall out, or have children in tow, there's a box bed in the living room that will squeeze in two more." The Guardian, July 2013

July 2013

Eco and Friendly. "This self-catering converted stable takes its eco-credentials seriously, but there's no skimping on comfort... Sherry is evidently proud of her achievements on the sustainability front – she has a gold award from the Green Tourism Business Scheme. Solar panels and a wood pellet boiler provide hot water and heating, insulating materials include cotton and hemp, something called Pavatex made from sawmill by-products, and a floor-screeding concoction involving limecrete and recycled glass. Paints and woodstains are from a German company which uses citrus essential oils as solvent – so Sherry did the decorating in an orange-scented haze. Ensconced, it's as though we have arrived at a friend's weekend mountain cabin in upstate New York. Our "loft" has sloping ceilings, solid pine floor (sustainable source, natch), and is open plan from the hallway into a kitchen-dining room and sitting area, which also has the unusual addition of a box bed (like the traditional Welsh kind) built in at the far end, behind the sofa... The fridge is hidden in a freestanding cherrywood cabinet, an admirable piece of furniture even without the contents (Lincolnshire chipolatas, juice, cider, eggs, cheese). Sherry has left us veg from the garden, and sumptuous edibles in a wooden trug beside a jug of sunflowers on the table – her own-label apple wine, jams and chutney, homemade bread and eggs – and vegan champagne truffles ..." Sally Shalam, the Guardian

3rd October 2009

The 50 Best holiday cottages.  "Play Mary Berry in this eco-friendly hayloft: take part in a jam making or chocolate course, bake cakes on the little range and create a feast from the generous welcome trug, which spills over with jams, cheeses, chutneys, plum loaf, raspberry wine, vegetables and herbs."  The Independent, May 2013

May 2013

50 best cottages in Britain. "Increasingly, self-catering properties are offering add-on activities.  This two-bedroom loft is an award-winning conversion of 18th century stables, log-burning stoves, exposed beams and deep-soaking copper bath.  It runs country craft and cookery courses including bread baking and bath-product making.  A welcome hamper includes chocolates, wine, plum bread, Lincolnshire sausages and organic free-range eggs."

February 2016

"These 18th-century stables in the heart of rural Lincolnshire have been converted into two snug, stylish holiday homes using eco-friendly materials and traditional methods..."

October 2011

"Lincolnshire is getting greener this spring...Sherry Forbes is aiming to get the county on the green map with her recently opened self catering accommodation...The luxuriously converted 18th-centruy stable block has already won a Green Tourism Gold award....With a commitment to all things local, Sherry is also a member of Tastes of Lincolnshire - her generous welcome hamper includes local sausages, cheese and home-grown veg..."

March 2010

"Luxury goodies and eco-credentials are piled equally high in this converted 18th-century stable block near quaint Woodhall Spa and historic Lincoln.  It's a self-catering retreat for two or three, where an antique organic-mattressed bed competes for attention with a hi-tech shower, and a welcome hamper groans with homemade jam, wine and organic veg..."

March 2010
The Bothy (2+1)
Warm and romantic with a luxury hamper and other lovely touches. A wood-burning stove, wooden soaking tub and welcome hamper make the Bothy a special place for that perfect break away.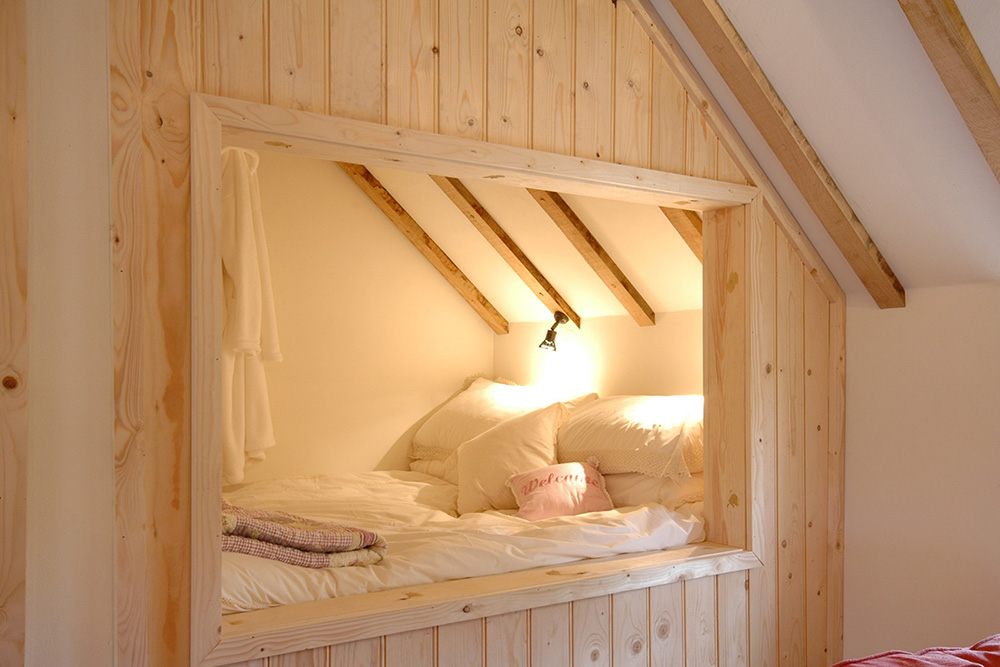 The Hayloft (2+2)
A lovely retreat with a wood-burning stove and lots of extras. The peaceful bedroom, box bed and deep copper spa bath are special places for relaxation – all perfect ingredients for a break away.
Courses
Cottage craft and cookery courses. Learn skills, be inspired and meet new people. Courses range from bread making to beekeeping, cheese to chocolate making and crocheting to clay creations… and more!